ETA: James Marsters as Nosferatu in DuckTales Halloween Special 'The Trickening!' (video)

ETA: As I had guessed, but couldn't confirm (until now!), James will be appearing in the DuckTales special Halloween episode, "The Trickening," airing Monday, October 5, 7/6c on Disney XD. Check out the first look photo of his character (as previously revealed exclusively to me (!), Nosferatu) below:


'Buffy's James Marsters, Selma Blair & More Join 'DuckTales' in Halloween First Look (PHOTOS)
Meaghan Darwish
Exclusive
Disney XD
DuckTales is getting especially spooky for its upcoming Halloween episode, "The Trickening," with a little help from some horror stars — and TV Insider has your exclusive first look!
As previously announced, Hellboy's Selma Blair and Doug Jones, Buffy the Vampire Slayer's James Marsters, and A Nightmare on Elm Street's Clancy Brown are all set to voice characters in the series, and they're tapping into their horror roots with monster roles.
In the exclusive photo above, see Jones, Blair, and Marsters' characters from the upcoming installment and check out Clancy Brown's monster, below. Their creepy characters have yet to be named but sure look scary.
Premiering Monday, October 5, the episode will see Duckburg's Huey (Danny Pudi), Dewey (Ben Schwartz), and Louie (Bobby Moynihan) forego their usual trick-or-treating path to take on the most haunted house in their neighborhood instead. Meanwhile, Launchpad (Beck Bennett) will confront ghosts from his past.
DuckTales follows the adventures of Scrooge McDuck (David Tennant), his grandnephews Huey, Dewey, and Louie, as well as his temperamental nephew Donald Duck (Tony Anselmo). Along for the fun are the McDuck Manor team including Launchpad, Mrs. Beakley (Toks Olagundoye), and Mrs. Beakley's granddaughter, Webby Vanderquack (Kate Micucci).
Don't miss the fun, tune into DuckTales for this Halloween episode airing on Disney XD in October.
DuckTales, "The Trickening!," Monday, October 5, 7/6c, Disney XD
Get your exclusive first look at the @DuckTales monsters being voiced by @JamesMarstersOf & @SelmaBlair! https://t.co/FITFn47kC3

— TV Insider (@TVInsider) September 25, 2020


SOURCE

ETA: James revealed to me (live & in person!) that the character he's playing is Nosferatu! (he thinks; it took him a sec to remember)

ETA: Scroll down for the Season 3 trailer (not featuring James, but still fun!)

TL;DR: James is mentioned as a cast member (not a guest star!), for Season 3 of DuckTales, although there are no details on the character he will play or when we can expect to first hear him. Season 3 will premiere, with two new episodes, on Saturday, April 4, at 9:30 a.m. EDT/PDT, on Disney XD and DisneyNOW.


As promised: Exclusive scoop from @JamesMarstersOf himself! The character James will be playing in Season 3 of @DuckTales is 🥁🥁🥁 Nosferatu! (He thinks; took him a sec to remember) He even gave me a sample of the voice & it. is. ADORABLE! (Think Toot-Toot from #DresdenFiles...

— James Marsters News➕ @ #Melbova This Weekend!!! (@jamie_marsters) March 7, 2020
...adorable!) I've sourced a pic from the @Disney Wiki & adorable sums Nosferatu up to a tee! (And I think I've found him in the Season 3 poster)👇👇👇@SupanovaExpo #Melbnova #JamesMarsters #DuckTales #JamesGaveMeAScoop! pic.twitter.com/bLHnJVSNpV

— James Marsters News➕ @ #Melbova This Weekend!!! (@jamie_marsters) March 7, 2020
EXCLUSIVE: DuckTales Season 3 Premiere Date & Surprise Characters Revealed!
EXCLUSIVE: DuckTales Season 3 premieres April 4th and includes Daisy Duck, Goofy, TaleSpin, Chip 'n Dale Rescue Rangers, Darkwing Duck, and more!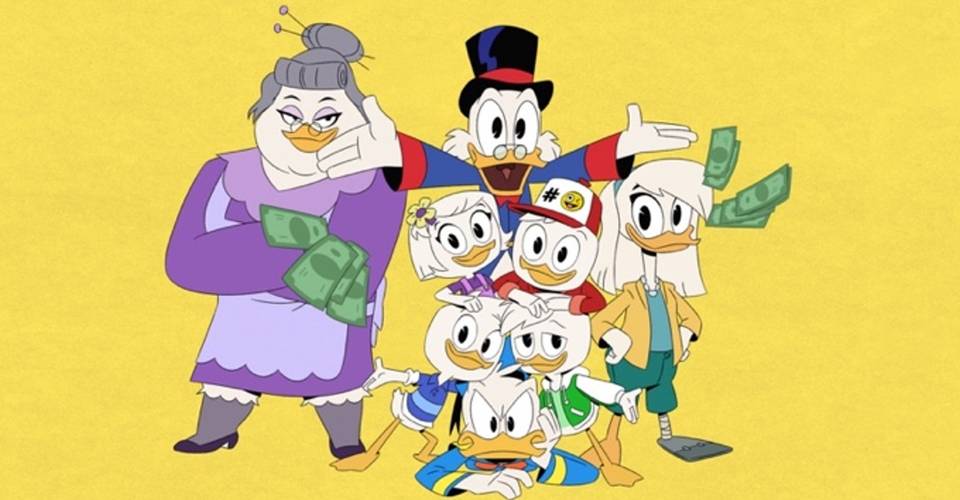 Season 3 of DuckTales premieres April 4th with two episodes, Screen Rant has exclusively learned, and will expand the world of Duckburg by introducing more characters from the classic Disney Afternoon line-up. The new season will also feature an all-star cast of guest stars made up of some of the industry's most prolific voice actors.
Based on the classic Uncle Scrooge comics, the original DuckTales animated series premiered in 1987 and detailed the escapades of wealthy adventurer Scrooge McDuck, and his triplet grandnephews, Huey, Dewey and Louie. A reboot series which modernized the classic concept and featured David Tennant as the voice of Scrooge premiered to wide acclaim in 2017, becoming a smash hit and Emmy Award nominee. The second season of DuckTales featured a number of Easter Eggs paying homage to other animated series that were part of the Disney Afternoon animation block, along with the original DuckTales. Chief among these were the introduction of superhero Darkwing Duck and two appearances by sky pirate Don Carnage, who was a reoccurring villain in the show Tale Spin.
Season 3 of DuckTales will continue this trend when it launches in April, premiering characters whose appearance on the show was first teased in a poster released at San Diego ComicCon 2019. The new season will see appearances by Donald Duck's longtime love interest Daisy Duck and his old friend Goofy, as well as other characters from Tale Spin, Chip N' Dale Rescue Rangers and Darkwing Duck. The main story will also pit Scrooge and his friends and family against the Fiendish Organization for World Larceny (F.O.W.L.) - a sinister spy group from Darkwing Duck.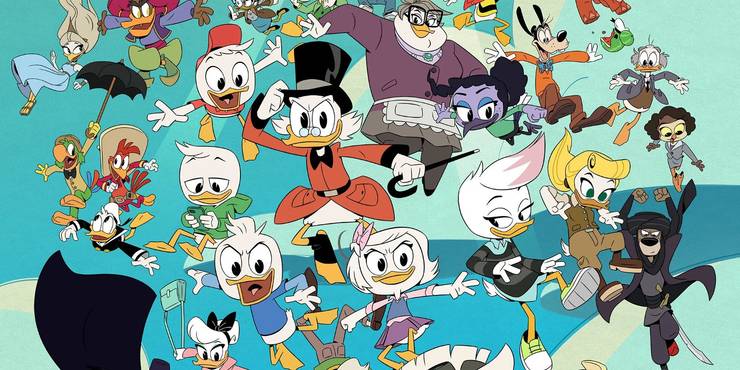 In addition to introducing more classic Disney characters into the reality of the new DuckTales, season 3 will also feature guest performances by some of the best voice actors in the business. This includes Giancarlo Esposito (Gustavo "Gus" Fring on Breaking Bad), Selma Blair (Liz Sherman in Hellboy), Kristofer Hivju (Tormund Giantsbane in Game of Thrones), Bebe Neuwirth (Lilith on Cheers), Retta (Donna Meagle in Parks and Recreation), Stephanie Beatriz (Rosa Diaz in Brooklyn Nine-Nine) and Jaleel White (Sonic in various Sonic The Hedgehog cartoons.) The cast for season 3 will also include Doug Jones, Clancy Brown, James Marsters, Hugh Bonneville, Abby Ryder-Fortson, Tress MacNeille, Bill Farmer, James Monroe Iglehart and Adam Pally.
None of the voice actors named in the official press release were tied to specific roles. It is presumed, however, that Tress MacNeille will be playing Daisy Duck and Bill Farmer will be voicing Goofy, as both actors are the official voices of those characters at Disney. Beyond that, it's anyone's guess what we may see and hear in season 3 of DuckTales. The only certainty is that it will be a duck-blur, whether or not we get any race-cars, lasers or airplanes.
DuckTales Season 3 premieres with two new episodes on Saturday, April 4, at 9:30 a.m. EDT/PDT, on Disney XD and DisneyNOW.
EXCLUSIVE: #DuckTales season 3's premiere date revealed!

Daisy Duck, Goofy and favorites from TaleSpin, Chip 'n Dale Rescue Rangers and Darkwing Duck will be making an appearance! Details: https://t.co/CtXrP1SB90 pic.twitter.com/FBOm4TEOPI

— Screen Rant (@screenrant) March 5, 2020
SOURCE