So a big break in between updates means there's a whole lot of new James news to check out.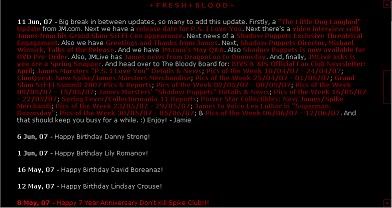 So, lots of updates including: "The Little Dog Laughed" update; P.S. I Love You & Shadow Puppets updates; convention news; JM.com's May Q&A, plus much more.

So check it out @ http://dontkillspike.50webs.com

There's also lots more @ The Bloody Board, so be sure to check in there as well. :)

And hopefully it won't be so long in between updates again next time.